Park Hyatt NYC Review - 4/26-4/29 2018
Wow. I'll just start there. This was one of those "aspirational redemptions" for me. I'd never stayed in one of the really high end hotels. I mean, I've stayed at the St. Regis in DC, but this property is on a different level.
We decided to fly in to see Hamilton and stayed from Thursday until Sunday. We spent one night in the Tryp by Wyndham and two nights at the Park Hyatt. I had a two night voucher from the Chase Hyatt Credit Card and plenty of Wyndham points (thanks to the Wyndham Diamond status match with Caesars) so I booked the first night at the Tryp by Wyndham.
I'd seen the Tryp on my last quick weekend in NYC. There was no vacancy at the time so I wanted to try it out. Briefly, here are my comments. We were underwhelmed by the property. I didn't even take pictures. The lobby was very small and full of large groups of people with their luggage. The bar/restaurant area was nice, but the signage made it look like a lower quality hotel. The front desk staff weren't particularly friendly. These things, while minor, tend to lower my first impression. The room was clean and still looked new. The bed wasn't comfortable for me. I like a firm bed, but this was a brick. It was a king bed with 4 standard pillows. Low quality pillows. Not a fan in general, but hey, it had a fantastic shower! If you know me, you know the first thing I do is check out the bathroom in a new hotel! So there's that.
Walking up to the Park Hyatt is an experience in itself; especially after the much smaller hotels in the older buildings we've stayed in up to this point. This is a very modern, very tall, very beautiful building. The doors are opened automatically for you by an attendant when you walk up. I swear they memorize faces and must have cameras pointed down the sidewalks because those doors would be opening for us before we got close! Such a small thing, but that felt really nice.
We left our luggage and the doorman escorted us up the elevator to the lobby. The property smelled fresh and clean. Everyone was smiling and friendly. They checked us in quickly and efficiently with careful attentiveness. Somehow even this felt luxuriously. We were given room 1516 and couldn't be more ready to see it at that point.
When you open the door you are looking at perfectly clean mirrors, carefully polished wooden doors on the closet and bar area. The floors were a hard matte marble maybe? It looked great and just felt....fancy somehow. I guess that's my Days Inn pedigree talking.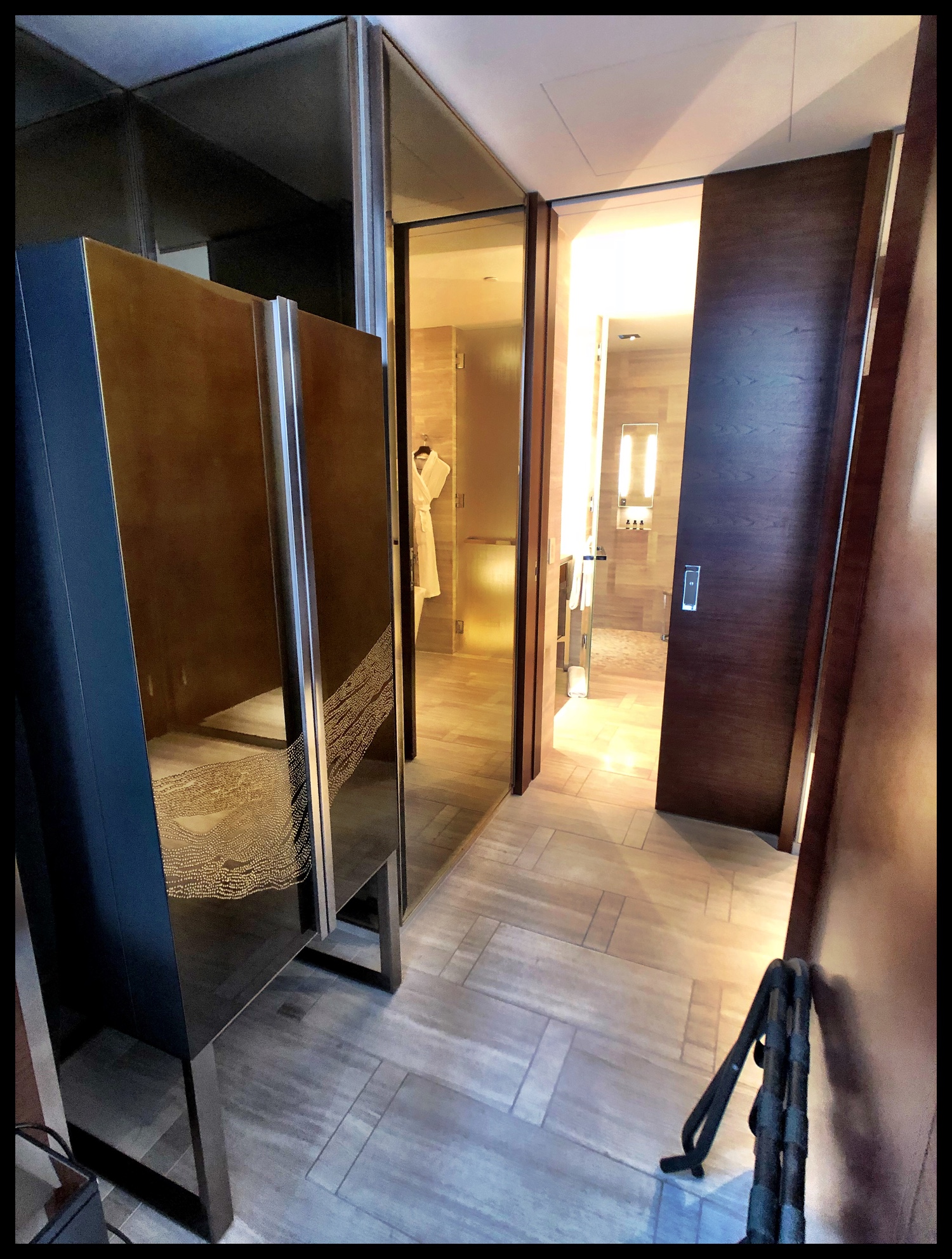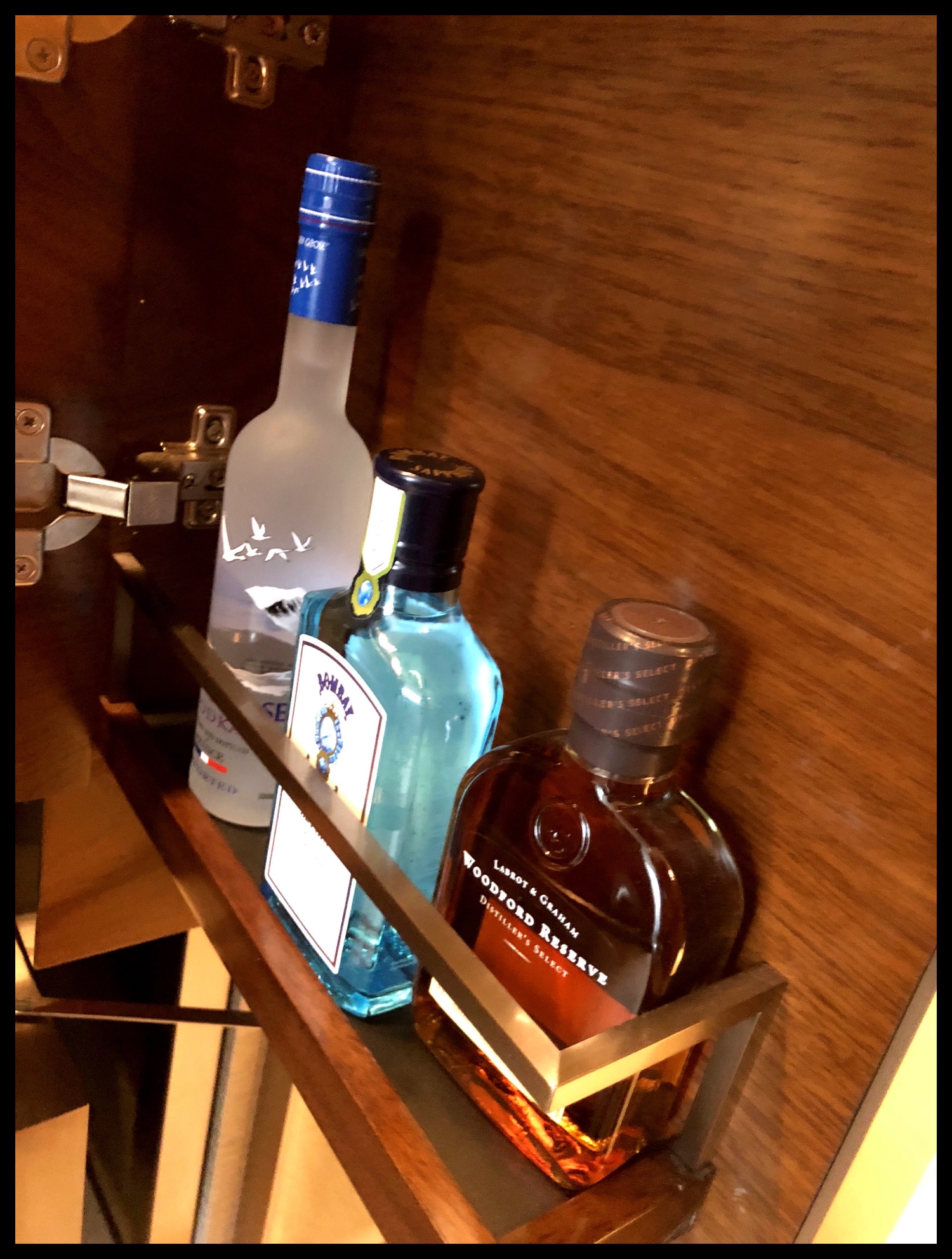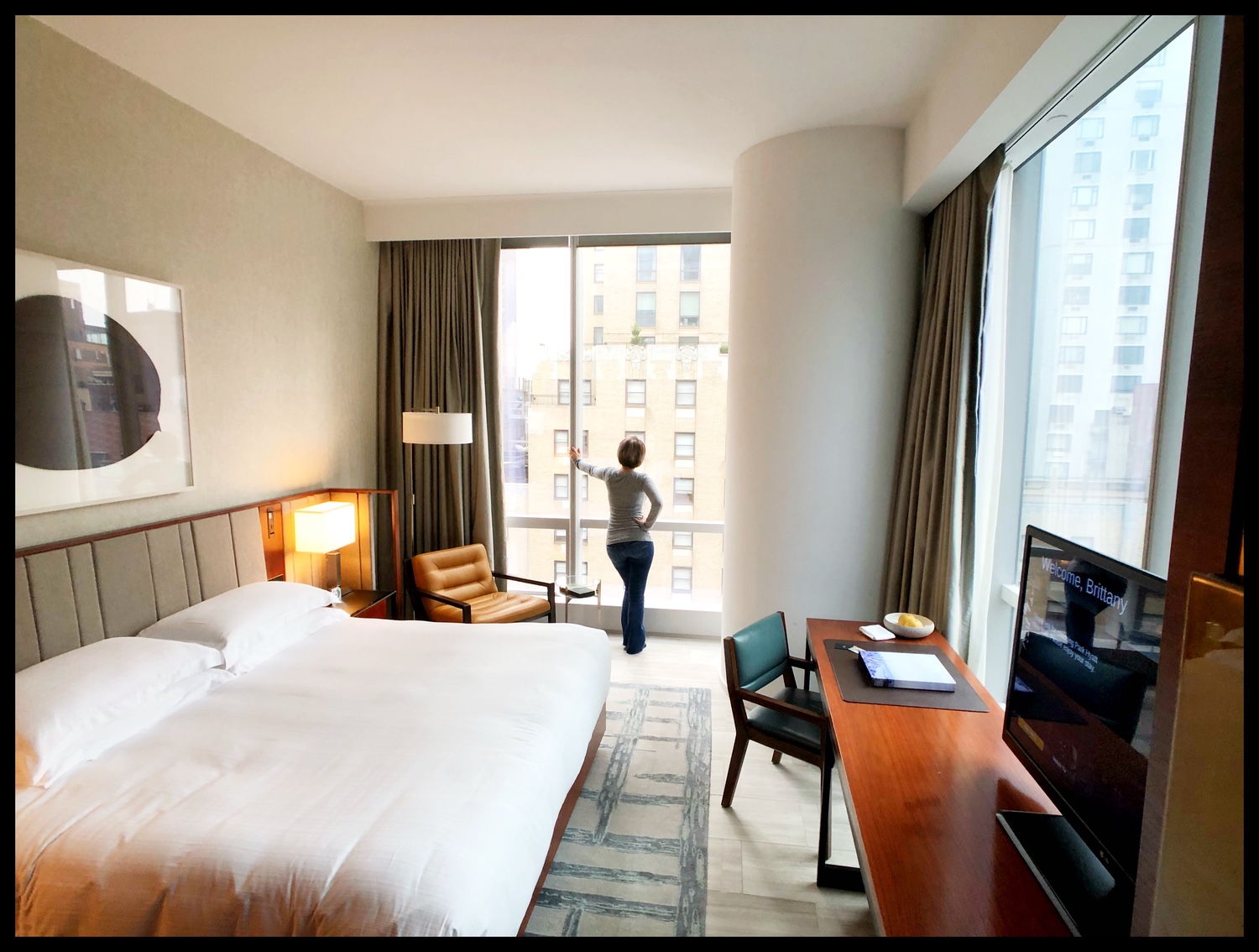 The main living area felt spacious for New York in which space is at a premium. We had a corner room with huge windows on both sides. The TV was playing soft atmospheric music that made the room feel even more notable. I appreciated this psychological game. It worked for me. The furnishings were clean, polished and all high end. The bar was stocked with premium spirits, solid wine choices, plenty of snacks and beer. The bed was fantastic! It reminded me of the bed at the SPG Le Meridien in New Orleans. Just plush and cozy. You don't want to get out of beds like that. The pillows were much nicer than the Tryp, thank you very much. The curtains and lighting were all controlled by a panel on each side of the bed. You could quickly go from wide open windows to blackout all from the touch of a button. Didn't hate it.

Now for the piece de la resistance: The Bathroom.

Yes. It gets capital letters. This was the part that made the room for us. Britt is a bath kind of girl. Everyone knows there are no bathtubs in NYC! Not enough space! Yeah, well.... I present to you in all its splendor: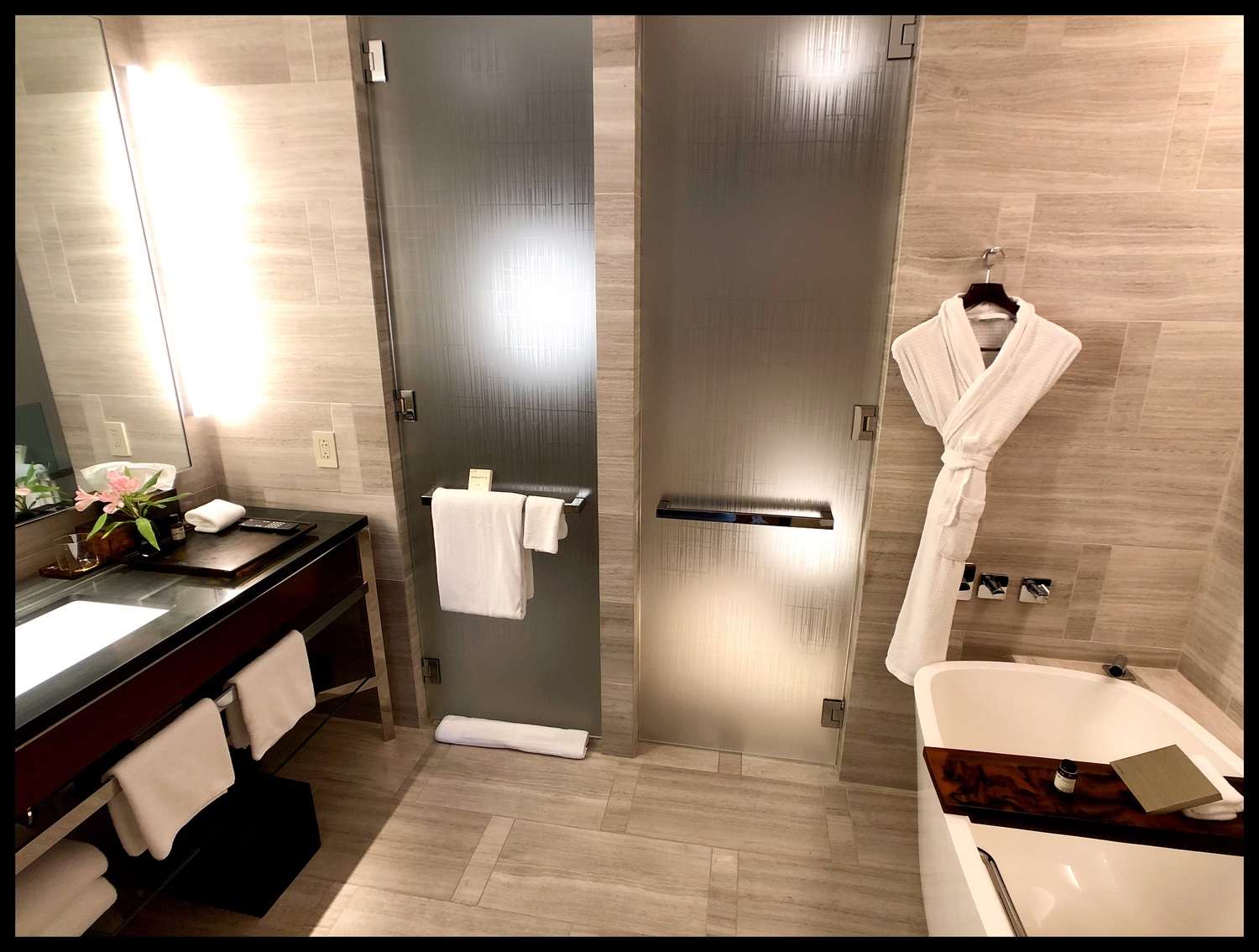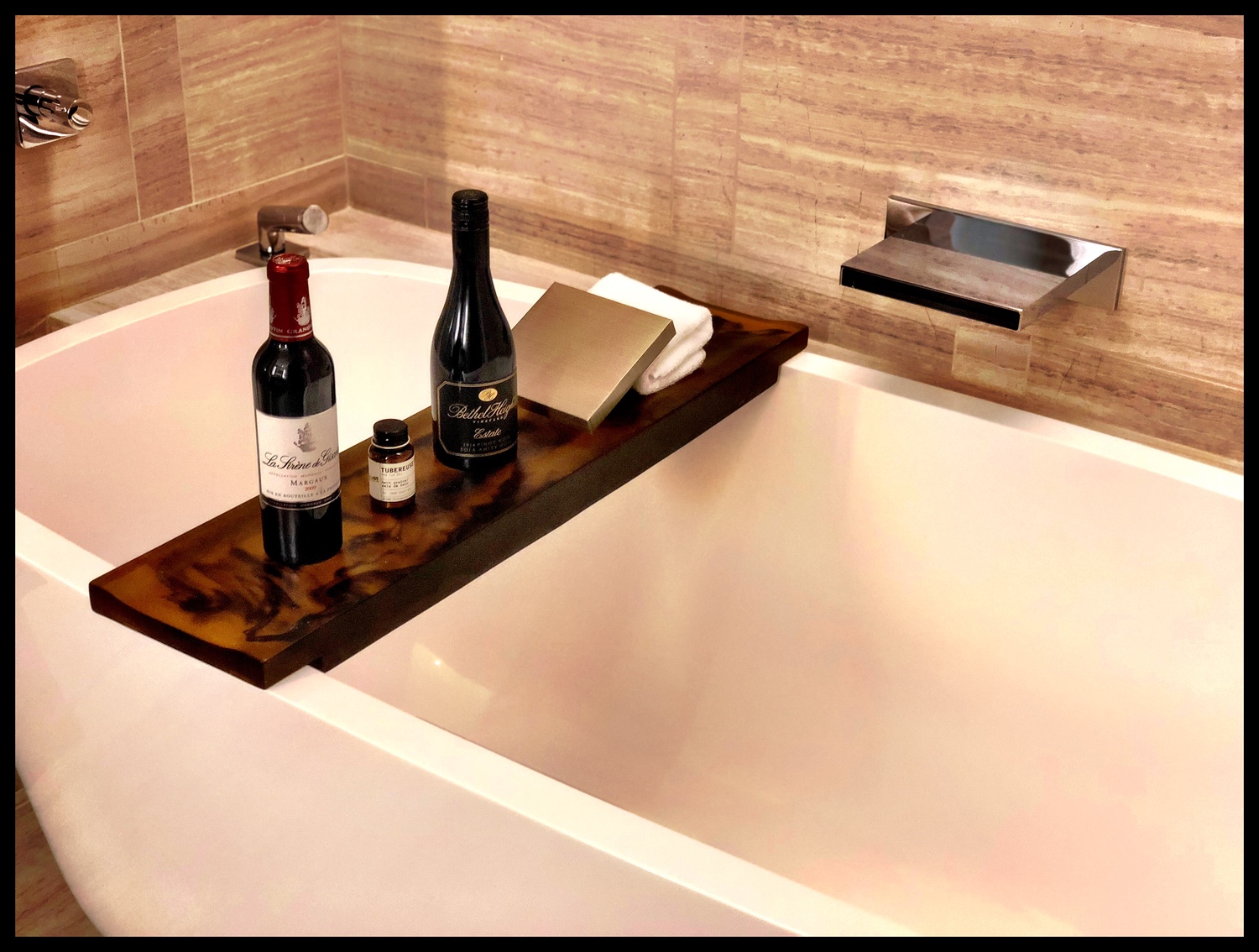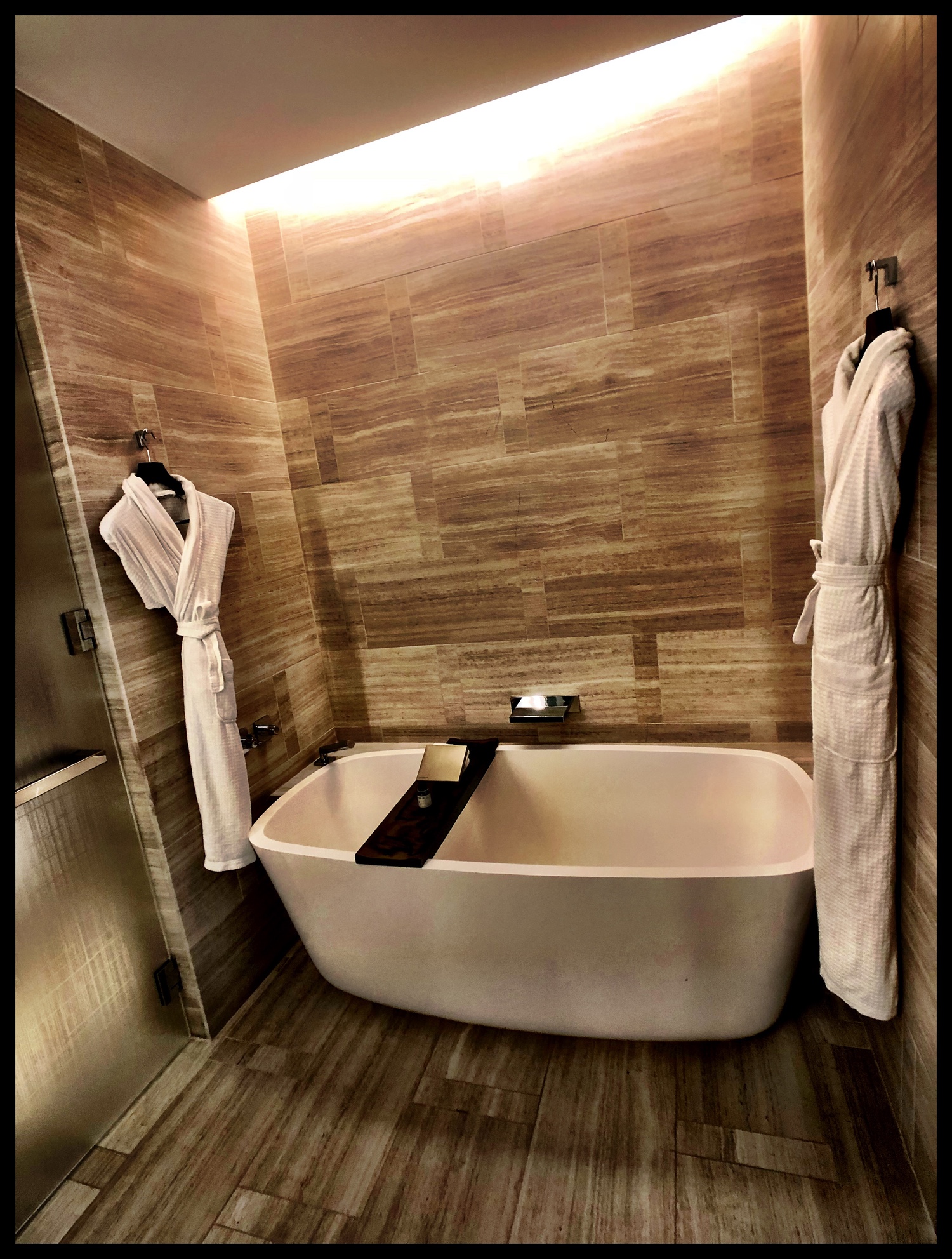 For me, the effect of bathtub was much greater than its actual usefulness, but it made the room for Britt. There is a large sink area with all the amenities you'd expect across from the tub with plenty of floor space in between. The back left wall had a door leading to a large shower with a detachable shower head and a rain head as well. There was even a wooden stool. Great for just hanging out in the shower after the grime of walking for miles and miles in Manhattan. I love shower stools. Weird. I know. The staff was more than happy to bring up the things you had forgotten. We got a razor and shaving cream like normal people. THEN, we asked if we could use some of the space in the "fridge" in the bar area. They let us know that it was "only a cooler" and said they'd bring up a fridge for us. Fifteen minutes later, expecting a small hotel fridge, a friendly guy lugs a fridge into the room that's about half the size of the unit you use at home. I felt for that guy. I also felt like a diva. Now we know!

In summary, this hotel was a milestone for me and remarkably so. I'll have a hard time not spending big points on high end hotels going forward. I'm usually very frugal with my points. Guess I'm not anymore. I absolutely recommend this property if you've got the points and are planning a trip to NYC! This room went for $1,495 for the first night and $1,750 for the second. That's an astounding number that I'd never have paid in cash and it made for a great redemption at $.05/pts per dollar! I calculated that using the current points cost at the time of writing since I had the vouchers.
Here's the final trip breakdown for you:
 - 20,174 Rapid Rewards Points for TWO round trip tickets (Second was on Companion Pass)
 - Two Night Voucher from Chase Hyatt Credit Card sign up bonus (no longer available)
 - 15,000 Wyndham Points for the Tryp by Wyndham

Rough Cash Costs:
 - $22 in flight fees on Southwest
 - $125 in Uber. High because I drunk dialed the Black Car once to the airport...
 - $40 in MTA Transit Cards
 - $350 in food and drinks. We splurge on this part, so YMMV.
 - $XXX Hamilton tickets. Yeah, we're not even going to go there.
 - $XXX Stupid Bloomingdales 30% off sale on top of $25 off each $100 on top of Amex offer.
 
That sums up the trip! Check it out if you can and let me know what you think. Let me know if I can answer any questions.  
Have a cocktail on me! 
-Kade